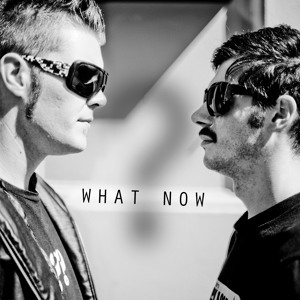 What Now? is an emerging new duo based in Melbourne, Australia. One Half, representing his hometown, is 25 year old FLIP3k (Phil Martin), a leading Melbourne DJ, responsible for running Melbourne's leading Breaks parties in the last few years as a figurehead of the entertainment group, ROCK LIKE THIS, touring and supporting the likes of STANTON WARRIORS, A-SKILLZ, LTJ BUKEM, PLUMP DJs, SCRATCH PERVERTS, NETSKY and NICK THAYER in 2012 alone, and its only halfway through February..!
The other half, is 26 year old JIMMY LE MAC (James Mackay), a breaks/techno DJ from Nottingham, UK. He has been producing tunes since 2003, under the guise T1UK, and also as ROGUE FINGERS (with Matt 5 Shaw). The Rogue Fingers have played in Nottingham and London's finest clubs, supporting DAVE SPOON, TERRY FRANCIS, CUT & RUN, TOM REAL, VANDAL, HEXADECIMAL, MAX COOPER, PETE JORDAN and many more. He also started the music night, BASS BREAK, in 2005, which is still currently running monthly in Nottingham.
They first met in the thriving party city of Nottingham, and instantly decided to ignore their studies, and focus on projects together. James has since moved to Melbourne, so they can focus on production, and begin turning some heads.
Their debut EP 'Cosmic Breakdown' was released in September 2011, on their own newly founded label, LOOPHOLE RECORDINGS, which is building a strong catalogue of non-genre exclusive underground electronic releases. With EPs from What Now?, solo releases from Jimmy Le Mac, and Australian Prog House producer Luke Meader already gaining attention, the upcoming releases from a range of Australian producers will no doubt turn heads.
Their debut release, was a remix of Melbourne producer Smile on Impact's 'STOP!' EP, which reached the Breaks top 40 on trackitdown.net. Since then they have been busy in the studio, working on remixes for Chipsound Recodings (Spain), We Are Live Recordings (UK) and Xelon Entertainment (Australia).
They dont often grace the decks together as 'What Now?', spending more time in the studio getting things sounding right, but when they do – be there to see it.
Luke Meader – The Pose (What Now? Remix) [released Jan 28th 12' on LHR004]