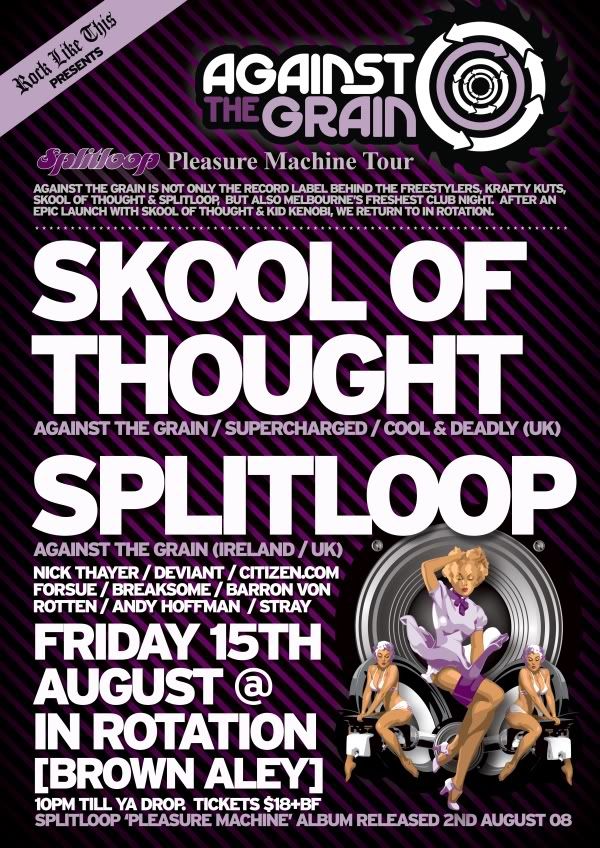 Rock Like This Presents….

Against The Grain with Splitloop (UK) & Skool Of Thought (UK)
Friday 15th August, Brown Alley @ In Rotation
After the epic launch of Against The Grain last month with Skool Of Thought and Kid Kenobi, the legendary
breaks night returns to the freshly renovated Brown Alley on Friday August 15th.
Joining resident Skool Of Thought this month will be none other than UK's Splitloop.
Splitloop have dipped their toes into other styles of electronic music to write 'Pleasure Machine', it has a velvety
sheen, touching on modern sexy sound, juddery Justice riddims, breaks and a
hell of a lot more. There's a consistency to their sound that glazes the whole album – sexy electronic dance music
that'll be rocking floors from Brighton to Beijing, quite simply 'Pleasure Machine' is bang on the money.
Phil and Bren of Splitloop admit to exploring other genres when writing 'Pleasure Machine', the broadening of their
horizons has had a profound influence on the Splitloop sound. "You can't be looking only to one genre to get
inspiration for your music," reckons Bren. "That would just be a ridiculous feedback loop".
"We're at a stage where we really just wanted to make music we thought was really good and moving our sound
forward, not worrying about what anyone else would think."
Bren is philosophical about their early career. "Our first studio had a broken toilet, so everything smelled like piss,"
he remembers. "We could never afford monitors 'cos all our money went on pills and beer. As soon as we gave up
pills, we bought monitors and got signed."
Here are some thoughts from resident Skool Of Thought on the Against The Grain concept.
"I can't wait to get back to Melbourne," enthuses Skool Of Thought. "It's the most music savvy city in Australia which is why I chose to launch the night here first".
This event will be Australia's first ever breaks night which is actually run and backed by one of the scene's top
record labels – a label which has alanced underground credibility with fame of holding the record for the biggest
selling breaks record ever for 'Push Up' by the Freestylers, which sold well over 100,000 copies! But those attending 'Against The Grain' will be in for more than just your usual breaks night.
"Breaks is the core of what we do and now is great time for mashing it up with genres also, it's something
I focused on for my 'Random Acts Of Kindness' album and it's always been the same for Krafy Kuts too" he adds.
"A splash of baltimore, dubstep and bassline house will give the night a twist and the speakers shaking".
Lineup:

Splitloop (UK)
Skool Of Thought (UK)
Nick Thayer
Deviant
Citizen.com
Forsue
Breaksome
Barron Von Rotten
Andy Hoffman
Stray
Friday the 15th August 10PM
@ Brown Alley
Cnr King & Lonsdale St, City