Events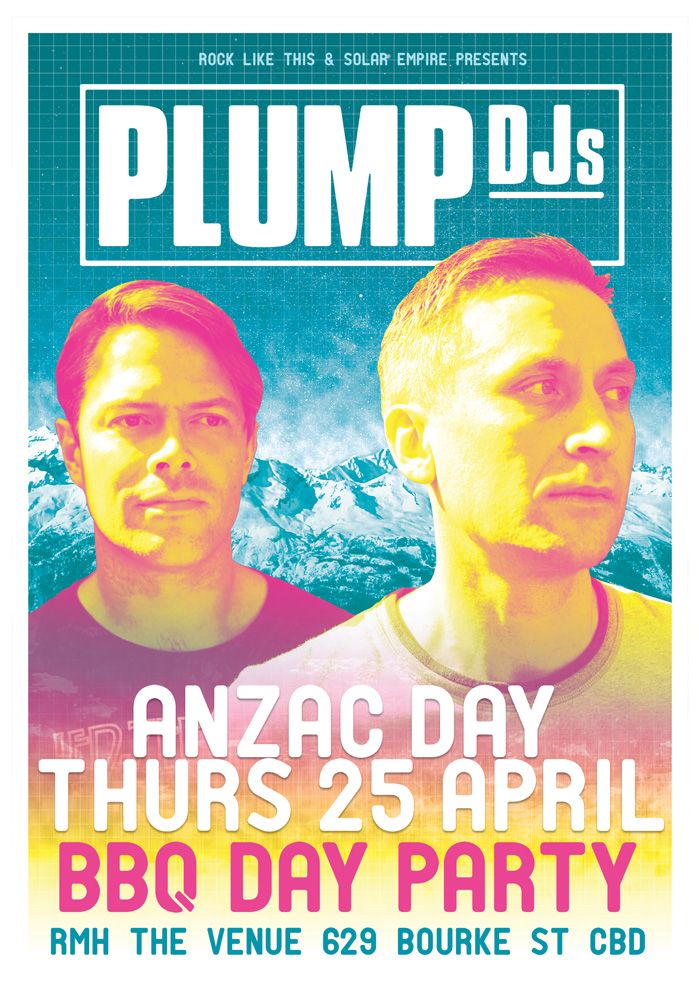 early bird tix on sale now www.rmhthevenue.com/tickets
rock like this & solar empire
present the
PLUMP DJS
BBQ DAY PARTY
ANZAC DAY
Thur 25 April
with mates
FLIP3K – CITIZEN.COM – DEVIANT – DIISTORTIION – LANKSTA – KODIAK KID – STEVE RILEY – JD – T DUBYA – JIMMY LE MAC – SHIFTY SLY
Come celebrate Anzac Day with some fancy beats, babes and a yum yum BBQ with your mates in the great outdoors in the freshly renovated RMH courtyard with your chefs for the occasion the legendary Plump DJs !
The Plump Djs
Lee Rous and Andy Gardner, aka Plump DJs, have been performing and producing together since meeting in the late 1990's. Since the start of their career they have been avid pioneers of diverse electronic music, smashing into the early breaks scene and since then, keeping the electro, house and bass music fields supplied with their ever-evolving beats.
They truly cemented their status as industry heavyweights through the success of still legendary releases such as 'A Plump Night Out' and 'Eargasm', which in turn led to the run of their epic Eargasm and Headthrash parties at London clubbing institution, Fabric.
In between the release of recent Grand Hotel tracks, including Boomer and Light Fantastic, Plump DJs have found time to remix the likes of huge international heavyweights Deadmau5, Loops of Fury and Stanton Warriors. This dedicated studio time has resulted in their tracks played out by none other than Carl Cox, Moby, Crookers, Zinc, Kissy Sell Out, Zane Lowe and more, with stellar feedback flowing in from all directions.
The Plump DJ's invite you to come and celebrate Anzac Day as they cook up a storm on the barbie and on the decks from 3 pm till you go home !
Tix on sale now only via www.rmhthevenue.com/tickets
Early $25 + bf (50 only)
Later $29 + bf
Full $35 + bf
Ticket entry includes complimentary BBQ so come early for a great feed catering for the meat eater and vego in you !
Doors 3 pm till late
RMH – 629 Bourke St – CBD